Why an Accelerated Nursing Program is Worth It
Each blog post is dated and contains accurate information as of that date. Certain information may have changed since the blog post publication date. If you would like to confirm the current accuracy of blog information, please visit our ABSN overview page or contact admissions at (866) 885-6337.
You've decided you want to transition to nursing quickly and researched accelerated nursing program options as a way to make it happen. You're also aware of the financial and time commitment involved, leaving you to wonder: Is an accelerated nursing program worth it? We say it is if you enroll in the Misericordia University Accelerated Bachelor of Science in Nursing (ABSN) program in Pittsburgh.
Why You Should Pursue Nursing
If you're still wondering about whether you should pursue nursing, you're not alone. Given that nursing is a rewarding, exciting and growing career field, there are many reasons why you should pursue a career in nursing.
Growing Demand for Nurses
Nursing is a rapidly expanding career field due to a growing elderly population, a rise in chronic health conditions, and an increasing shortfall between the current amount of nurses and the projected need.
According to the U.S. Bureau of Labor Statistics, from 2020 to 2030 the total employment of registered nurses is projected to grow by 9 percent, and hundreds of thousands are needed to grow the profession while replacing retiring nurses within the workforce. With the ever-growing need for quality care, nursing is predicted to stay in high demand for the foreseeable future.
Career Opportunities
The field's increasing size means that many diverse job opportunities will be available to individuals who graduate with a Bachelor of Science in Nursing degree and pass the NCLEX-RN® licensure exam.
A newly graduated nurse can choose whether to take their career in a specialist or generalist direction, as well as choose where they'd like to work, whether that's in an inpatient or outpatient setting.
A BSN also gives the foundation that students need to specialize in their later careers. If management is your end goal, a BSN can set you up for those opportunities, as employers recognize the value of a BSN education in building the necessary leadership skills.
If you'd rather pursue advanced nursing roles like nurse practitioner, clinical nurse specialist, nurse midwife, or nurse anesthetist, a BSN also sets you up for that. In order to reach those careers, you'll need a master's degree in nursing and a BSN is often a prerequisite for those programs.
These career advancement opportunities also bring in a higher salary, with advanced practice nurses making $123,780 annually.
With salaries and career opportunities continuing to grow, becoming a BSN-educated nurse is a calling for those who are ambitious and have a desire to climb the corporate ladder, as well as those with a passion for helping others.
The Value of an Accelerated Program
Accelerated nursing programs are worth it if you're dedicated, motivated and have a passion for caring for others. It's a major commitment, but in the end, you'll have all the knowledge and skills to earn your BSN in as few as 16 months. Programs like ours allow you to:
Accelerate Into a New Nursing Career
It's possible for you to earn your BSN in as few as 16 months through our program because we allow you to build upon your existing college credits from another field of study.
We have a higher enrollment capacity than some other programs because we offer three start dates per year — in January, May, and August — therefore eliminating some of the wait associated with starting nursing school.
Practice and Develop Your Nursing Skills in Top Facilities
In an accelerated program, you can learn nursing theory concepts on your own time. Part of our three-part hybrid curriculum involves online courses that you can complete from anywhere at any time (provided you still meet assignment deadlines).
This online modality caters to a variety of different learning styles. Whether you're a visual learner who learns best through diagrams, an auditory learner who learns best by hearing information, a verbal learner who learns best through reading and writing, or a kinesthetic learner who learns best through hands-on activities, the e-Learning platform at Misericordia provides a variety of different learning resources to help you best absorb nursing theory concepts.
These online courses also provide an increased sense of self-agency in students as they navigate how to schedule out the time and place they learn best.
As you're learning these new concepts, you'll be able to practice your skills in a risk-free environment. In these hands-on skills and simulation labs, you can apply theories and concepts learned in online courses in an advanced setting that mimics the clinical environment. You'll get to feel what it's like to be a nurse without putting patients in danger.
Once you've finished that stage, you will be able to develop your skills at top Pittsburgh health care facilities. You'll work side-by-side with a small group of peers and experienced nurses to put what you learn in your online and lab courses to the test.
Why Misericordia ABSN is Worth it
Do you need more reasons to determine if an accelerated nursing program is worth it? Consider that by earning your BSN through Misericordia University's ABSN program, you also stand to gain:
A Quality Nursing Education
Dating back more than 90 years, Misericordia's Nursing Department is one of the University's founding programs. The ABSN program will carry on the Department's longstanding tradition of offering students a quality education steeped in professional preparation and service leadership. As a student enrolled in our ABSN program, you'll study and practice how to deliver safe, effective patient care in a multitude of diverse settings.
Nursing Leadership Skills
The Misericordia ABSN program's mission aligns closely with that of the University: to provide a student-focused learning environment that fosters intellectual curiosity, critical thinking, and respect for all persons while adhering to the core values of mercy, service, justice, and hospitality. Once you graduate from our ABSN program, we're confident you'll feel ready to become a vital member of any multidisciplinary health care team of which you're a part in the future.
Support From Start To Finish
As a Misericordia ABSN student, you'll never feel like you're going through nursing school alone. That's because our faculty and staff want to see you succeed. In addition to your clinical instructors, they'll be there to help you understand concepts you may have trouble grasping and guide you as you begin preparing for the next step on your nursing journey: a rewarding career helping others.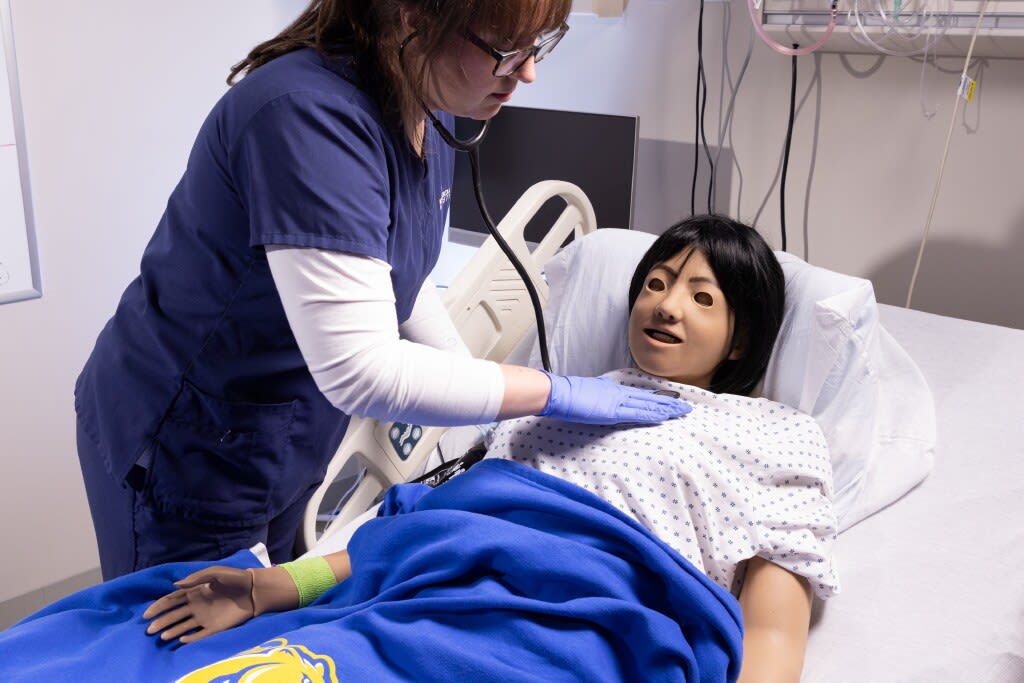 Preparation for the NCLEX-RN®
To practice as a registered nurse, you must first pass the National Council License Examination (NCLEX-RN®) to determine you meet the quality standards to care for patients. Starting your first day as a Misericordia ABSN student, our dedicated and highly qualified nursing instructors will prepare you to sit for this exam that's so critical to your nursing future. In fact, our Nursing Department consistently yields high first-time NCLEX pass rates, with graduates of our BSN ground programs achieving a first-time NCLEX-RN® pass rate of 88.6% in 2021.
Qualifying for an Accelerated Nursing Program
Before our online-based accelerated nursing program in Pittsburgh can put you on track to earn a BSN in as few as 16 months, you must meet several nursing school admission requirements. We seek applicants who:
Hold a non-nursing bachelor's degree or have completed at least 60 credits from a regionally accredited institution.
Have a minimum cumulative GPA of 2.75 (based on all transferable college credit).
Complete all ABSN prerequisite courses within the specified grade requirements.
Start Pursuing Your Accelerated Nursing Education
Ready to get moving on your nursing goals? Reach out to one of our dedicated admission counselors to get started on discussing next steps. Your next career is within your grasp, so make a BSN degree your next priority.